Broll Mountain Vineyards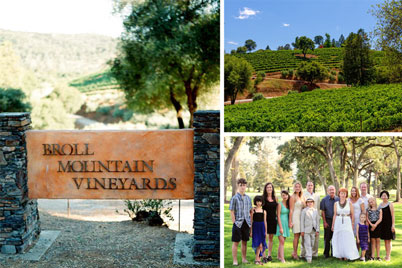 Nestled in the historic gold rush town of Murphys, California, Broll Mountain Vineyards produces premium wines handcrafted with integrity, legacy and heritage. Broll's organically grown wine varietals include Cabernet Sauvignon, Merlot, Syrah, Petite Sirah, Roussanne, Chardonnay and specially crafted blends. Wines are aged in French Oak barrels sourced from the finest cooperages.
In the early 1990s, Betty & Bill Broll founded Broll Mountain Vineyards to share their love of wine and perpetuate their family's long history in the beverage industry. Their vision was to create premium wine they could be proud of, to operate with integrity, to treat customers and staff with appreciation and respect, and to be a family-operated business for generations to come. Today Broll Mountain Vineyards produces over 1,000 cases of organically grown premium wine and is currently operated by Betty and Bill's children, Belinda and Brandon.
Connect with Broll Mountain Vineyards
∘ brollwine.com