San Francisco Chronicle 2020 Awards
by Alisa Steck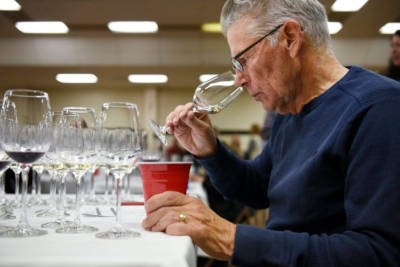 We are excited to announce scoring 10 awards at the SF Chronicle 2020 Wine Competition! This year's competiton was fierce, with 65 judges evaluating nearly 6,700 wines from over 1,000 wineries. We're especially honored to have been named 'Best In Class' for our 2017 Sierra Foothills Syrah. The 'Best In Class' judge; Mike Dunne is a Contributing Wine Columnist for The Sacramento Bee & a seasoned SFCWC wine judge. We're delighted to share Dunne's tasting notes as to why the Syrah was chosen for this prestigious award:
Vina Moda 2017 Sierra Foothills Syrah: A Syrah will all the grape's customary muscle when it is made at its finest, but also with a fine-lined complexity that includes suggestions of bacon, berries and wildflowers so small you might not notice them on a hike through the summer Sierra."
~ Mike Dunne
In addition to Syrah's Best in Class, we also won the following:
Double Gold – 2017 Vinas
Double Gold – 2017 Sierra Foothills

Syrah

Gold – 2017

Grenache

Gold – 2016

Petite Sirah

Silver – 2017 Phoenix
Silver – 2017

Barbera

Silver – 2017

Tannat

Silver – 2017

Cabernet Sauvignon

XI
Silver – 2017

Mourvèdre

Silver – 2017

Merlot
The proceeds of the San Francisco Chronicle Wine Competition support the non-profit Cloverdale Citrus Fair and help support wine and food education at educational institutions and non-profit organizations. San Francisco State University, Santa Rosa Junior College Wine Studies Program and Culinary Arts Program, Fresno State University Enology Program, California Polytechnic State University Enology Program at San Luis Obispo, and other non-profit organizations have received support from past competitions.
The 2020 San Francisco Chronicle Wine Competition SFCWC Sweepstake Medal Winners
Take a peek of behind the scenes of the 2020 SFCWC:
Credit: Laura Donadoni, the Italian Wine Girl, 2020 SFCWC Professional Judge