Join Us for a Winetastic Dinner, Feb 6
by Dre Vader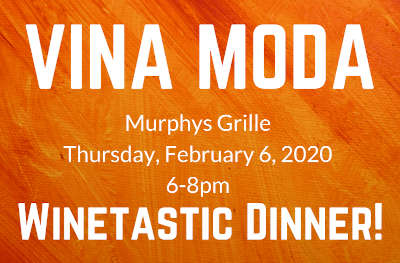 Join Vina Moda this Thursday night, February 6th, from 6pm-8pm at Murphys Grille for their Winetastic Dinner series.
Enjoy presentations from Vina Moda, highly discounted prices on our featured Award-Winning wines, and a discount on your choice of one of Murphys Grille's appetizers when ordering one of the featured wines.
Our 2017 Barbera and our 2016 Syrah will be the featured wines of the evening! Be sure to check out our suggested food pairings! We hope to see you there!
Reservations highly recommended: 209-728-8800