Villa Vallecito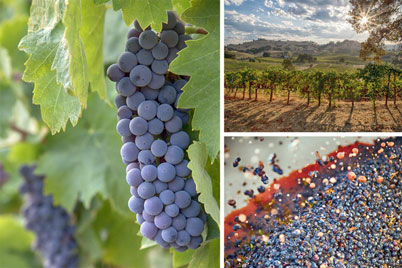 There is more to our vineyards than spectacular scenery. The proximity to the lake with cooling breezes along with seasonably warm days make this area ideal for growing grapes that produce spectacular and award winning wines. We manage our vineyard closely to make sure the grapes we produce are worthy of the Villa Vallecito name.
From the time our vines were planted in 2001, we have nurtured each and every varietal to suit its specific needs. We prune to keep our yield low, at 3 tons per acre, so that every grape can receive the amount of nutrients, water and sunlight it needs to reach its full potential.
Our vineyard is meticulously monitored to ensure that our fruit can grow in peace and harmony with the surrounding landscape. Sustainability is very important to us at Villa Vallecito Vineyards, and so we fertilize using organic material from each harvest season: including leaves, skins, stems, and fruit that didn't meet our standards for the winemaking process. Our vines are sorted three times prior to crush to remove any debris coming out of the vineyard, un-ripe or overripe berries. The result is big rich flavors, with beautiful colors.
The passion of our winemaker, Nathan Vader, is reflected in his relentless pursuit of perfection. Each varietal is harvested at the exact moment it reaches its peak and is hand sorted in the vineyard as well as at the winery, so that only the finest grapes make their way into our wine. We strive to create the purest wines that mirror what mother nature intended, and so we add the lowest possible amount of sulfites and carefully select everything that goes into the winemaking process with the attention to detail that is found in only the finest wines.
We invite you to visit us at our tasting room and discover for yourself the quality, elegance and bold character of our wines, as well as learn about our Vineyard and all it has to offer.
Connect with Villa Vallecito